WNY Foundation Repair
If you're experiencing your walls buckling, tipping or bowing, you need to call Utech Basement Waterproofing before the damage becomes more serious. We have been using tried and true reinforcement methods for over 40 years to repair and strengthen foundation walls in homes throughout WNY.
The foundation repair methods Utech uses throughout WNY are able to be modified and customized to fit your specific site conditions, whether it's your home, business or job site, with specific consideration always made for the type of foundation walls, including block or poured concrete foundation walls, and soil conditions. Utech uses the only the latest and most efficient technologies and equipment available for your WNY foundation repairs.
Foundation Repairs in Western New York
If you have been told that your foundation walls need to be replaced, call Utech, because this may not actually be the case. Through a unique process, we are able to "jack" your walls back into place, providing more stabilization, and avoiding more costly foundation repairs to your WNY foundation walls, bringing them back into "better than new" condition. Moreover, Utech Basement Waterproofing is able to provide these services faster, and at less cost than removing and rebuilding your foundation walls.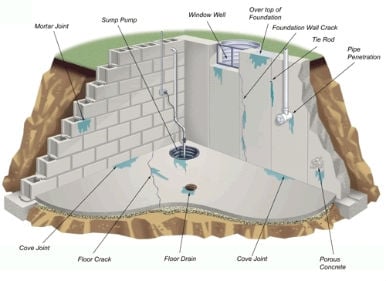 As part of our foundation repair services in WNY, Utech Basement Waterproofing offers foundation stabilization, relying on proper diagnosis of your foundation issues before we provide a price quote. We carefully analyze damage and work hard to come up with a one-time solution, so that you won't need to pay for costly foundation repair twice. Utech is committed to helping you avoid costly, unnecessary, or improper repairs to the foundation of your WNY home or business. We use A. B. Chance Helical Pier Foundation Systems to stabilize and jack your foundation, if necessary.
Contact Utech for Foundation Repairs Today
If you are in need of low cost, high efficiency foundation repair for your WNY home or business, we urge to call Utech Basement Waterproofing today, at 716.893.8801.