WNY Basement Waterproofing
Utech Basement Waterproofing has been a staple in Buffalo, and throughout WNY, since 1967. We are committed to educating homeowners to help them understand the possible dangers that an unprotected basement can present, and the preventative measures they can take to avoid them. Utech is committed to WNY basement waterproofing.
If you're afraid of losing valuables, or value in your home due to water damage, then you need to contact Utech today. The fact is that many WNY homeowners are not fully aware of the maintenance and inspections that should be performed regularly, in order to protect their foundations. Utech Basement Waterproofing has the knowledge, skill, and expertise to help you protect your basement, and your home, from significant water damage.
Basement Waterproofing WNY
Problems begin when water leaks, or floods, into your basement through cracks or openings in your walls or floors. Many homeowners are shocked to learn that water can even leak through concrete. When you choose Utech for your WNY basement waterproofing needs, we work with you in order to customize a basement waterproofing solution that will help to keep your basement dry.
At Utech Basement Waterproofing, we like to look at the big picture. Whether your basement is experiencing leakage through drain tile, or wall cracks, Utech can help eliminate it, and teach you how to prevent it in the future. We use time tested methods, but we also embrace recent advances in technology, incorporating the latest state of the art equipment to eliminate your basement water problems. When it comes to WNY basement waterproofing, Utech does not "sell" a system, we offer solutions.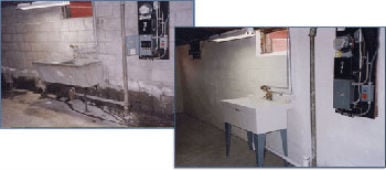 Utech Basement Waterproofing is, and always has been committed to delivering the most reliable service we possibly can. We work hard to help people like yourself, who are in need of permanent solutions, not temporary fixes. We are contractors who are accountable, using repair methods that are proven to be effective, reliable, and can help you protect the investment you've made in your home.
If you're looking for a WNY basement waterproofing contractor with a solid track record, your search is over. Contact Utech today.