Williamsville, NY Foundation Repair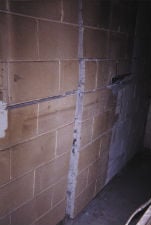 For many homeowners, finding a crack in their home's foundation is a nightmare - but it's a more common problem than you'd expect. Nearby trees can puncture walls with their roots, shifting earth can put undo pressure on the foundation, and an improperly draining yard can lead to water build up. The sooner you contact a foundation repair company in Williamsville, NY, the better off you'll be. If you wait, the problem can still be fixed, it'll just require a lot more effort - what was once an unsightly crack can begin to pose a safety risk if it's not taken care of in time.
Foundation Repair Services
Whether your basement wall has a small crack that needs to be sealed, leaks, or you need the whole foundation to be repaired, we're ready to help. Our foundation repair services include:
We will repair small cracks in your foundation by using an interior sealant such as Epoxy
We will waterproof your foundation with our exclusive Inject a Seal waterproofing process - which is the best way to make a clean and neat repair without digging up the area around your house
We will check your yard to make sure everything is draining properly and water isn't building up against your foundation
We will help you choose the right sump pump to prevent flooding
And if we need to, we can redo the whole foundation to repair more serious issues
Our History
We are the oldest foundation repair company in Williamsville, NY. We've been helping residents fix their foundations for over 45 years, and in that time we've built up a bevy of loyal customers. Your home is your most valuable asset, and we're repairing your foundation, we treat your home as good as if it was our home. Our team of professionals is trained to handle whatever the job requires, and we take pride in our workmanship.
Your Free Foundation Repair Estimate
If you're looking for foundation repair services, feel free to contact us online or give us a call, and one of our experts will provide you with a free no-obligation estimate. We look forward to helping you!