West Seneca, NY Wall Crack Repair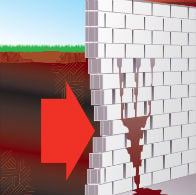 Water damage is one of the biggest reasons homeowners file insurance claims. Whether you use your basement as a living space or storage, you want to protect it from water seeping in through the cracks in your walls. Not only can it destroy your belongings, it can cause serious damage to your basement walls. It can even cause the foundation of your home to shift. Before you face expensive home repair, call UTECH for help. Our professionals provide superior wall crack repair services to protect your home and possessions from water damage.
Why Prompt Wall Crack Repair Is So Crucial
Many West Seneca, NY homeowners notice cracks in their basement walls. What they fail to realize is how dangerous they can be. These cracks often develop slowly, and can take months or even years to form. While they make your home look bad, they seem harmless enough. But the truth is, they could be destroying your investment.
The longer you wait to seal off those basement wall cracks, the more moisture is allowed to enter into your home's structure. These cracks are actually an early sign of damage to the foundation of your house. The sooner you call UTECH for help, the more you can avoid severe damage to your home.
Professional Wall Crack Repair from UTECH
At UTECH, we use an exclusive waterproofing process that seals wall cracks between the foundation of your home and the soil surrounding it. This allows us to fix the cracks without the mess and expense of digging it out, leaving your home looking neat and clear.
Polymers, such as epoxy or urethane, can be applied to seal the interior basement wall cracks. When they harden, they will instantly block off most of the leaking. However, this is not a good long-term solution if the cracks are caused by hydrostatic pressure. We may need to use a dry-pack mortar if the basement cracks are too large for polymers to help.
If your foundation has been deemed structurally unsound, we can help. We can add braces, jacks, wall anchors, or pilasters to support your walls. Starting with the inside walls, we can support the walls and straighten out slouching walls.
Contact us today at UTECH for more information about our full line of wall crack repair services for West Seneca, NY.