Orchard Park, NY Basement Waterproofing
Even in the absence of flooding rains or faulty pipes, water will find a way to enter your basement. For example, ground water can accumulate in the soil, causing the water table to rise and hydrostatic pressure to bear down on basement walls and under floors. Consequently, water can force its way through the smallest cracks in basement walls or floors, causing mold growth, pest infestations and possible structural damage.
Foundations constructed from concrete frequently suffer cracks that require applications of urethanes or epoxies to stop the leaks. By pressure injecting these compounds into foundation cracks, Utech basement waterproofing technicians provide your Orchard Park, NY basement with professional repair techniques that are long-lasting and dependable.
Basement Waterproofing Orchard Park, NY
Utech Waterproofing provides Orchard Park, NY basement waterproofing that can also seal the exterior of your basement. Sealants used are composed of polymer-based compounds that remain unaffected by pH levels in the soil. In addition, polymer-based waterproofing sealants can be applied directly to the wall with an industrial sprayer and dried quickly so that the area can be used within a short time.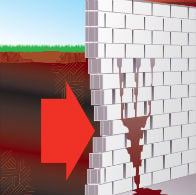 Home and business owners think that a small amount of moisture in their basement won't cause much damage. As water seeps, decay and humidity levels rise, the results could produce much damage that the building could become unlivable due to mold, termites or foundation instability.
Contact Utech for Basement Waterproofing Services Today
Utech Waterproofing is a full service Orchard Park, NY basement waterproofing company that can increase the value of your property, and provide a healthier environment for you and your family. If you suspect water infiltration in your basement, contact Utech Waterproofing today to discuss your options regarding waterproofing your basement.