Lancaster, NY Sump Pumps
You've heard it before, but it is true nonetheless, that your home is your most valuable asset. As a homeowner, however, it couldn't be more apparent that maintaining it can be an extremely difficult challenge. It may seem like there are a million forces out there, constantly threatening your home's condition, and value. Fortunately, when it comes to leaks in your basement, you can at least be rest assured that Utech has you covered with our installation and service of sump pumps in Lancaster, NY.
Yard drainage is a major contributor to basement flooding. There are a variety of ways in which this can be avoided, and one of the simplest, most effective methods is the installation of a sump pump for your Lancaster, NY home. The sump pumps main function is to collect and detour water from your basement. Fortunately for Lancaster, NY homeowners, em>Utech is here to make the process of installing a sump pump simpler, and more affordable.
Sump Pumps in Lancaster, NY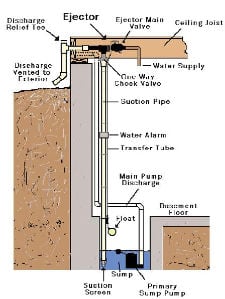 Our Lancaster, NY sump pumps are extremely efficient in diverting moisture and dampness, and controlling the flow of water away from your basement. Generally, they do not divert water into the sanitary sewer, as this increases the municipal treatment system's workload, and may ultimately cause more harm than good. At Utech, we know these systems like the backs of our hands, and we will work closely with you to ensure your sump pump is installed safely and correctly.
Of course, like any other home appliance, sump pumps must be maintained properly in order to continue performing their task. If you should ever experience any problems with your Lancaster, NY sump pump,Utech is always ready to help. Our basement waterproofing professionals are highly skilled, knowledgeable, and friendly.
When considering the purchase of a sump pump for your Lancaster, NY home, call Utech. It is important to understand all of the intricacies of your Lancaster, NY sump pump before installation, and we are eager to help you through the process.
Call Utech today for all of your Lancaster, NY sump pump, and basement waterproofing needs.