Lancaster, NY Basement Waterproofing
Hey Lancaster, NY, are you worried about basement flooding? Are you looking for a company that can not only help you waterproof your business, but educate you on best practices to ensure that your basement is protected from flooding? Well, it would appear as though you've come to the right place. Utech is proud to provide full service basement waterproofing to Lancaster, NY residents, and business owners.
One of the things we at Utech are most proud of is our commitment to not only helping you waterproof your basement, but making sure that you're as educated as possible about the dangers of basement flooding, and how to protect yourself against it. Basement waterproofing is a fantastic way to protect your home from damage to valuables, and costly repairs. If you're not prepared, you will not be happy with the results, we can guarantee that.
About Our Basement Waterproofing Services in Lancaster, NY
Utech's basement waterproofing services in Lancaster, NY are no different than anywhere else. That means you'll be treated to an unparalleled level of customer service, knowledge, and quality work. We love to help people just like yourself find permanent solutions for your basement waterproofing needs.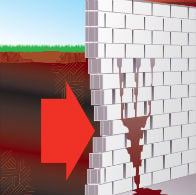 We strive to utilize only the most effective methods for waterproofing your basement. We are a second generation company; the knowledge and experience we use has been earned since we got our start, back in 1967. Your home's foundation is its basement, but ours is teamwork, accountability, communication, and skill, on top of dedication to exceptional customer service.
Contact Utech For Basement Waterproofing Expertise Today
You've already taken the correct first step, when you decided to seek out a basement waterproofing contractor. By doing so, you're saying that you want to protect yourself against costly repairs and damages, in the event your Lancaster basement ever does flood. Now, take the next logical step, call Utech Basement Waterproofing at 716.893.8801, today.