Basement Waterproofing System in Hamburg, NY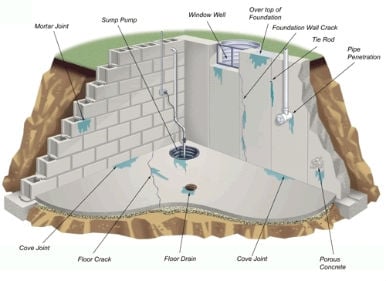 Basement flooding can cause damage to your personal belongings, destroying treasured keepsakes you've stored there. Even worse, the standing water can harm the house's foundation, and the repair costs will be expensive.
If you live in Hamburg, NY, you can get professional waterproofing services for your basement from Utech Basement Waterproofing. Locally owned and operated, we have the training, skill, and experience to provide the protection you need from flooding damage. We use specialized equipment that is designed to give you dependable waterproofing that can stand up to the extreme New York weather.
Preventing Water Damage to Your Home
Water can get into your basement in several ways. At Utech Basement Waterproofing, the first things we look for are potential problem areas in your home. Since every home is different, there is no single solution for all houses. We will design a custom waterproofing solution that will take care of your basement's specific needs.
Basement Waterproofing Solutions
Having Utech Basement Waterproofing take care of your waterproofing issues provides protection for your home. It helps keep your foundation from incurring costly water damage. We offer you a lifetime warranty on our waterproofing services, and we proudly stand behind that guarantee. Our services include:
Drain Tile
Leaks can come in all sizes, from small aggravations to a chronic leak overtaking the entire basement. At Utech Basement Waterproofing, we can accurately diagnose your water problem and offer solutions to fix them.
Wall Cracks
Cracks in your basement's concrete walls can let water in, creating a real problem. The professionals at Utech Basement Waterproofing use an exclusive waterproofing process called Inject A Seal. This system seals the cracks in the concrete between the foundation and earth. There is no digging necessary, so you won't have to deal with the mess. It is also less costly than an excavation technique.
Trust Utech Basement Waterproofing to Protect Your Home
With more than 45 years of experience providing professional basement waterproofing to the homeowners of Hamburg, NY, we offer high-quality waterproofing services with excellent customer service.
Contact us today at Utech Basement Waterproofing and find out more about our waterproofing services for your Hamburg, NY home.