Cheektowaga, NY Yard Drainage Contractor
Many home and business owners in Cheektowaga, NY have experienced yard drainage problems. Excess water can turn your property into a gigantic mess, as the water from a heavy rain has nowhere to runoff to. One issue is that many residents tend to underestimate the importance of runoff issues, and end up with unnecessary stress because of it. Luckily, Utech Waterproofing has an expert yard drainage contractor team and is here to help.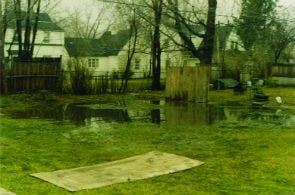 Utech Waterproofing has been serving the Western New York Region since 1967, providing valuable services such as yard drainage solutions, basement waterproofing, foundation repair, and more. We have established ourselves as a part of the community, and we set ourselves apart by not only focusing on providing a superior service, but also educating our customers on how to avoid basement flooding, and other issues - this is what you can expect when you chose Utech.
Yard Drainage for Cheektowaga, NY Lawns
When it comes to our Cheektowaga, NY yard drainage services we have the knowledge and experience to properly diagnose and correct your particular issue. We also spend the time to educate you on the proper maintenance and care to ensure your yard drainage issues are being tackled for good, and we always take pains to ensure we won't disturb your lawn or landscaping.
No two lawns are exactly alike, and that is why we work hard to analyze your specific runoff issues, and customize a yard drainage system that is unique for your property, so you won't have to deal with messy accumulations of water causing damage to your lawn.
Contact Us For Premiere Yard Drainage Contractor Services in Cheektowaga
Utech Waterproofing are the premier yard drainage contractor experts in Cheektowaga, NY, and throughout the greater Buffalo area. If you're experiencing runoff issues on your home or business' property, do not hesitate to contact us today, so that we can begin planning your custom yard drainage system.
Call us at 716.893.8801, today.