Buffalo, NY Basement Waterproofing System
Our basement waterproofing system uses cutting-edge materials combined with proven application methods to put an end to worries about water infiltration into your basement. Just image how much more enjoyable your home would be with a nice, dry basement to enjoy - you'll finally be able to make use of your basement instead of constantly worrying about water coming in!
Protecting Your Home Against Flooding With A Basement Waterproofing System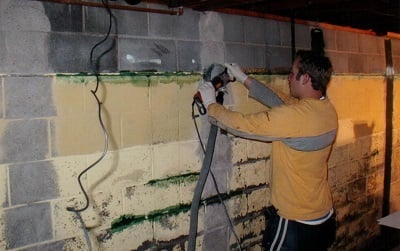 A wet basement is more than an inconvenience - it can be a sign of serious damage to the foundation of your home which can lead to expensive and costly repairs. At Utech Basement Waterproofing, we are experienced in diagnosing the causes of potential water damage in your basement and providing proactive waterproofing for your Buffalo, NY home, in order to prevent future damage.
Our basement waterproofing system is the best in the business, because we customize it to the specific needs of your home. When you get waterproofing for your Buffalo, NY area basement from Utech, you are only paying for solutions to the specific problems or water damage dangers that exist in your basement. We never try to sell you generic, one size fit all solutions.
Advantages Of Our Buffalo Basement Waterproofing System
By waterproofing your basement, you'll instantly expand the living space within your home. You and your family will be able to enjoy added room - without selling your house or paying for a costly renovation. Waterproofing your basement will also make your home more energy-efficient, saving you money on your home heating bills while improving the quality of your indoor air.
Contact Utech Today For More Information About our Basement Waterproofing System Options in Buffalo
If you need a basement waterproofing system in the Buffalo, NY area, contact Utech Basement Waterproofing today for a free estimate and to learn how our basement waterproofing system can add value, protection, and comfort to your home.