Amherst, NY Sump Pumps & Sump Pump Contractor
Does the basement of your Amherst, NY home have that wet, clammy feel, smell of mildew, or regularly flood during the storm seasons? If so, a sump pump repair by the trained professionals at Utech may the solution to your problem.
The Advantages of a Sump Pump in Amherst, NY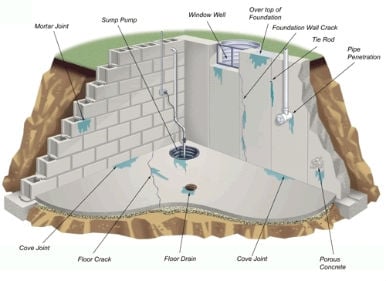 While a sump pump can be used after flooding to empty your basement of water, it is also a proactive way to prevent water damage in the first place. A properly installed and positioned sump pump will collect moisture from the air and floor into a drainage pool and then pump that water out of your home.
A poorly installed sump pump will cause problems with sewage and possibly create unsanitary conditions. The professionals at Utech Basement Waterproofing know how to prevent problems and install a sump pump in the safest, most effective, and sanitary manner. Professional installation assures that your new Amherst, NY sump pump will protect your home in the most effective manner possible.
Your Local Amherst Sump Pump Contractors
When it comes to installing and repairing sump pumps in Amherst, NY, Utech Basement Waterproofing is an expert in the business. Utech has nearly 50 years of experience with protecting homes from water damage. The trained professionals are all expert in installing, maintaining, and repairing Amherst, NY sump pumps. When you have a sump pump installed by Utech Basement Waterproofing, the service is guaranteed and you will receive the best advice and consultation on the maintenance and inspection schedule that will best protect your new sump pump for years to come.
Contact Utech For Sump Pump Contractor Services Today
Your home is one of the most valuable assets you own and water damage to your basement can potentially devastate the foundation of your home. When you get a sump pump from Utech Basement Waterproofing, you can be certain that the company is as concerned with protecting your home as you are. Utech wants nothing more than for you to be the next satisfied customer to publish a testimonial on the website. Contact Utech today for sump pump repair services in Amherst, NY, and surrounding areas!