Amherst, NY Basement WaterproofinG
Utech Basement Waterproofing can protect your home against water damage. All basements are at risk for water damage unless the proper precautions and repairs are done to eliminate the hazards allowing water to seep inside. Major floods are not the only cause of water leaks. Minor cracks and imperfections barely visible to an untrained eye can lead to the consistent flow of leaking water. The damage caused by these leaks would be next to impossible to ignore. Utech Basement Waterproofing in Amherst, NY services are available right now to help cut down on the costly damage that might occur.
Utech is a full-service Amherst, NY Basement waterproofing contractor capable of handling any job presented to us. A thorough and complete inspection will be performed on the property so we can determine what is causing the water damage and how we can go about eliminating the problem.
Basement Waterproofing in Amherst, NY
There are a number of ways we can help eliminate any water damage related problems that can befall the basement of a home. We can install an effective drain tile system that can greatly reduce the impact of water on in the basement. All excess water can be captured by the drain tile and then carefully transferred out of the basement.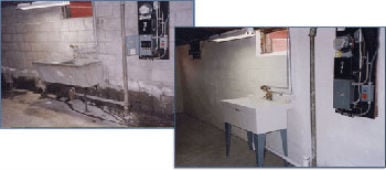 If there are cracks in the wall leading water to come through, we can quickly seal those cracks. The special waterproofing system we use is fast and reliable. Once the cracks are sealed up, the newly waterproofed basement will be at far less of a risk for damage.
When you want your basement waterproofed, you need the work done by people you can trust. Utech Basement Waterproofing is a trustworthy second generation Amherst, NY basement waterproofing contractor that has long since served the local community with great dedication and exceptional customer service. We can reliably deliver on any waterproofing job requested of us.