Buffalo, NY Basement Waterproofing System
Water damage in your basement can come from various sources. Your basement may have small cracks in the wall that allow ground water to seep in, seams at the edge of windows may not be fully waterproof, or you may have pipe joints that leak water into your basement. Whatever the cause, water damage is a major problem that can cost you tens of thousands of dollars in home repairs and replacement of items stored in your basement. To avoid having to pay lots of money for repairs and replacement, you should get the Buffalo, NY, basement waterproofing system from Utech Basement Waterproofing.
Waterproofing Your Basement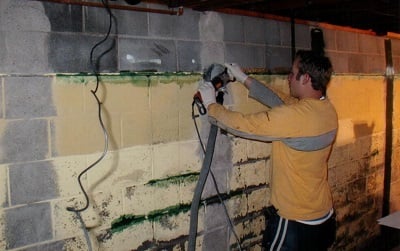 At Utech Basement Waterproofing, we are experienced in diagnosing the causes of potential water damage in your basement and providing proactive waterproofing for your Buffalo, NY home, in order to prevent future damage. Our Buffalo, NY basement waterproofing system is the best in the business, because we customize it to the specific needs of your home. When you get waterproofing for your Buffalo, NY area basement from Utech, you are only paying for solutions to the specific problems or water damage dangers that exist in your basement. We never try to sell you generic, one size fit all solutions.
Buffalo, NY Basement Waterproofing with a Guarantee
When you get your basement waterproofing from Utech Basement Waterproofing, you also receive a lifetime warranty on the service. You can be certain we will stand by that guarantee, since we have been providing waterproofing services to the Buffalo, NY area for over 45 years. We don't just stand by the quality of our service, but we also engage in constant ongoing training to make sure our employees are not just experts, but fully up-to-date on modern procedures. If you need basement waterproofing in the Buffalo, NY area, contact Utech Basement Waterproofing today for a free estimate.